Fishing in Croatia from the boat
Among the activities during PonzaYacht Charter , fishing is the primary one, if only because of the great passion that its skipper has for it. In fact, before it was the "Fishing-Cat", now it is the MOTOR YACHT PRIME that is equipped with equipment that have nothing to envy to the legendary American fisherman with towers for sighting, and fighting chairs! Very comfortable and stable, our Yacht avoids the discomfort of female guests, which characterize the waiting moments in drifting in baiting!
Hybrid Yacht Prime
With its displacement, Hybrid Yacht Prime is organized to keep everyone busy, while the women sunbathe in the bow, or on the large Fly, at the stern we are organized with rod holders and fishing rods that will give us some nice surprises during the transfers. ! If the season allows it we can take Tuna, palamiti, Lampughe, Sword fish!
Just have a little patience!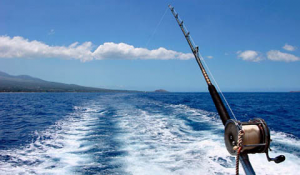 To start we have installed a professional color echo sounder, with a bronze passing transducer that allows you to accurately read the secrets of the seabed with its "delicious" inhabitants.
There are also 10 fishing rods, from 130 lb to 30 lb, to understand us from 200 kg tuna to ½ kg blue fish.
For the most demanding prey we use the stern-mounted fighting chair, which thanks to a safety belt, will allow us to live unforgettable memories without going to the sea.
If the trolling does not satisfy you can trigger the 50 hooks of Danik-marine's easy fork, and there believe me, it is really difficult not to take anything, sea bream, snapper, lampuga and swordfish, will be the most probable spoils that this type of fishing there will give.
Underwater fishing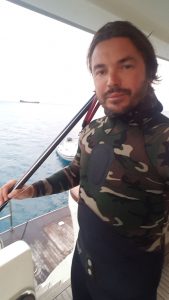 Another source of supply of fish is undoubtedly the underwater fishing, your skipper is a deep passionate, and if you want to take you on the most fishy shoals to try together some prey to do on the barbequeu on the Fly or in the oven with the potatoes !! and then bad that goes .. there is always … the fish shop !!!