Suncat Charter
Suncat History
Suncat Charter is a charter  company founded in 2002 by its founder Davide Palusci, and that after 10 years of hard work, has gathered the trust of 4 other passionate friends, which have allowed it to become today a reality of the Italian nautical charter. It has come to have three catamarans: Lagoon 410, Lagoon 440 and Lagoon 500 and a Motor-Yacht Sunseeker Predator 80. After the 2011 crisis, the company broke up by dividing the boats.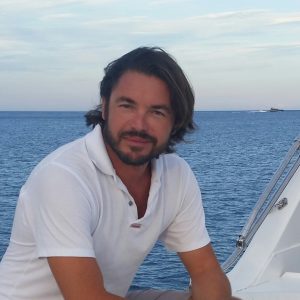 CEO   Davide Palusci
Its founder Davide Palusci bought back in 2014 a Rizzardi Technema 80, and started the climb to realize his crazy dream … a Hybrid Yacht only after 2 years of hard work managed to make it operational in 2016. The refitting work continued in 2017, fine tuning all the technological changes made to the boat, today we can say that it is the first Eco-sustainable Hybrid boat and certainly with the lowest environmental impact on the Italian charter market. Suncat today manages, directly, other sailboats, catamarans and some motor boats, all the boats you will see on our site are boats that have success standards with the customers always very high!
 Summer 2019   Charter Sardinia 
We operate in the nautical charter sector  in Italy through yacht charter and leasing contracts. 
Charter Catamaran
We rent our catamarans preferably with crew, . For our super motor yacht there are 3 crew members.
Suncat Luxury Services
We also specialize in jet-private airplanes, helicopters, and much more accessible .. propeller planes, we can take you to your destination at very competitive costs.
Italian Yacht Event
We offer team building and incentive for companies on board our catamarans or our Luxury Yacht.
Yacht romantic dinners
During the winter season we do romantic dinners, private parties, birthdays, bachelor party, bachelorette party We just have to wish you a happy stay on board our boats!
We are waiting for you !!
David