Yacht Charter Ischia
and Catamaran Charter Ischia Among the mini cruises in the Mediterranean the sailing holiday in ISCHIA, represents a dream. Thanks to its peculiarities, the underwater site of Ischia Ponte has been chosen by marine biologists all over the world as a field of experimentation . The increase of carbon dioxide on marine organisms, we will give you the possibility to visit it in complete safety.
Ischia island
The places not to be missed once landed in Ischia , are Ischia port with its restaurants and along the shopping street, or Casamicciola and Lacco Ameno with their shops.
Unmissable are the shafts below Castel Sant'Angelo, an ancient fishing village, direct contact with the sea, practically a large rock connected to the rest of the island through a very thin isthmus of land, which extends over the sea with a strip of dark sand , revealing the volcanic nature of the territory. In its surroundings abound the thermal waters: the famous Terme di Cavascura, a hydrological basin in the natural state dug into the living stone of a valley that still preserves its caves and its small waterfalls, from the side of a hill there is abundant thermal water that feeds the Garden Spa of Aphrodite.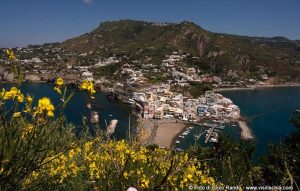 Bays of Ischia
Another beautiful bay is under the Aragonese Castle, located on a small island of rock connected to the eastern side of the island of Ischia by a masonry bridge 220 meters long. It reaches a height of 113 meters.
It is accessed via a mule track or by a modern lift installed at the end of the 70s. From the boat you can admire in all its majesty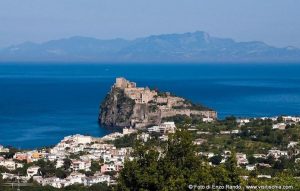 The skipper's advice
Duration of the holiday on a sailing boat: 4 -7 days.
Activities carried out during the nautical charter
Diving in the most significant places of Ischia – visits to the natural thermal centers – Diving in submerged shipwrecks. For complete relaxation tasty appetizers, and dinners on board the catamaran based on freshly caught shellfish, accompanied by selected wines, in the background the wonders of Charter Ischia
Weather Charter catamaran Ischia, weather monitoring, to offer you a real-time update for your sailing charter Ischia
This post is also available in:
Italiano (Italian)
Deutsch (German)